SD Bars Immunity Bowl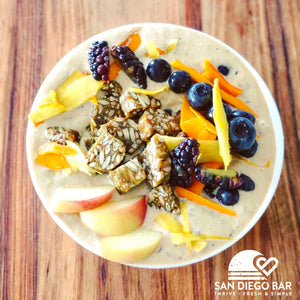 Boost your immunity with this San Diego Bar smoothie bowl! it's a great post-work meal as well because of the high level of protein added which will help rebuild muscles and recovery. This bowl bring you the best of both worlds!
List of ingredients:
1 Large and ripe peach

1/2 cup coconut milk

1 Package of SD Bars ( Any Flavor )

1 tbsp. Organic Pea protein Powder Vanila
2 oz. Bule berries
2 oz. Blackberries
1/2 oz. Ginger Root
1/2 oz. Turmeric Root
Directions
In a smoothie blender, throw in coconut milk with the peach and the pea protein. Blend for 10 seconds then empty mixture in a bowl.

Open One package of San Diego Bars, take out both servings and cut into small cubes.

Peel the ginger and turmeric roots into small peels.

Add the SD Bar cubes into the bowl and garnish it with Blackberries, blue berries, peach slices, ginger and turmeric peels.

Boot your immunity with Fresh and Simple ingredients!
Bon Appetit :)
SD Bars Team