Pecan Pie Bar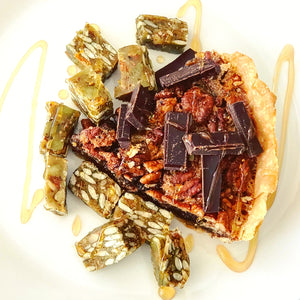 Whats better than a Chocolate pecan pie?!
More dark Chocolate and more pecans from the San Diego bars Original Antioxi!
This combo have an amazing taste and rich flavor and can be your afternoon indulgence or pre-workout!
List of ingredients:
1 piece of Chocolate pecan pie

2 oz Dark Chocolate

1 Package of SD Bars Original Antioxi

Raw Honey
Directions
Cut 2 servings of a San Diego Bar package into cubes, cut a 2 oz Dark Chocolate board into small pieces.

Place 1 piece of Chocolate pecan pie on a plate, place bar and chocolate pieces on the top of the pie and drizzle some honey over the top!
Enjoy along side of a coffee as an amazing desert!
Bon Appetit :)
SD Bars Team